CHEMICAL PEEL
ADVANCED SKIN CARE TREATMENTS
---
Professionally applied Chemical Peel solutions are safe for all skin types, exfoliate dead skin cells and help bring healthy skin cells to the surface. These treatments reveal deeper layers of fresh and untouched skin. Monthly treatments can result in even skin tone, clear acne, improve the appearance of aging skin and make dull complexions glow without the downtime.
FOCUS ON ALL SKIN CONDITIONS
AGING
Strengthen skin, selectively focus on fine lines, wrinkles and other signs of aging while hydrating the skin. Brightens the skin and reduces.
SENSITIVE
Improve overall skin health without causing irritation while minimizing redness and supporting healthy barrier function.
HYPERPIGMENTATION
Reduce dark spots, enjoy a more even skin tone and brighten the skin with powerful ingredient pairings.
ACNE
Experience a clearer complexion and help prevent future breakouts with effective ingredient blends that help balance the skin's oil production.
PROTECT YOUR INVESTMENT
A (3-5 day) post-procedure kit is complimentary with your peel treatment. Treating your skin with daily care products between your chemical peel treatment is just as important as the treatment itself. PCA SKIN regimens are designed for each skin condition for take home use to continue to help reveal the best skin possible.
CHEMICAL PEEL
SAFE & EFFECTIVE FOR ALL SKIN TYPES
Drawing from more than 30 years of Chemical Peel expertise, PCA SKIN has developed some of the most innovative science behind the chemical peel service, providing over 1 million chemical treatments a year. PCA SKIN's wide range of chemical peel proven products and services include progressive - not aggressive - peel formulations that drive results without the downtime.
All products are tested in case studies on real clients to ensure efficacy and safety prior to launch.
Chemical Peels: The PCA SKIN difference:

• Self-neutralizing, making them safer for both the esthetician and client
• Advanced blends of acids, so they won't leave the skin red and irritated post treatment
• Can be combined with other professional treatments for a truly personalized experience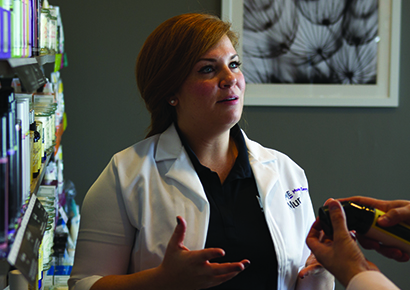 "YOU MIGHT PEEL SOME OR NOT AT ALL, BUT AFTER A SHORT DOWN TIME; YOU MAY BE ABLE TO START SEEING SMOOTHER, FIRMER SKIN..."
Chemical Peel 101
FREQUENTLY ASKED QUESTIONS
Who are peels for?
Chemical peels are for everyone. Whether your skin is dry, oily, combination, or even sensitive, there is a chemical peel treatment that will work for you.
What do peels improve?
Chemical peels are safe and effective in improving and preventing most skin conditions:
Aging
Acne
Discoloration
Sensitive skin/rosacea
Why do I need a peel?
Our skin naturally exfoliates, gently shedding dead skin cells so subtly that most of us don't even notice. However, as we age, this process tends to slow, resulting in a dull complexion.
How do peels work?
Chemical peels speed up the exfoliation process, encouraging cell turnover that leaves the skin looking fresh and healthy. It is not necessary to see visible peeling with a chemical peel. Improvements in the texture, tone, and overall appearance of the skin take place whether or not peeling occurs.
Ingredients in the peel solution are also working to create new cells that function properly, not only visibly improving the skin, but correcting from within.

Myths vs. Reality
GET THE PEEL FACTS
Myth:
Chemical peels are just for wrinkles.
Reality:
PCA SKIN® chemical peels can improve and prevent most skin concerns, including discoloration, aging, and even rosacea and acne.
Myth:
Chemical peels leave you red in the face and require a lot of downtime.
Reality:
PCA SKIN® chemical peels leave you with a healthy glow, not bright red skin. They also have minimal downtime. Light flaking in a few localized areas for several days is typical. Some guests even schedule treatments during their lunch break.
Myth:
Chemical peels cannot be performed during the summer season or in warmer climates.
Reality:
PCA SKIN® chemical peels can be applied safely and effectively, regardless of the season or climate, as long as guests comply with aftercare instructions and follow their post-treatment regimen.
Myth:
You must prepare the skin with a facial prior to receiving a peel.
Reality:
It is not required to have any type of facial prior to receiving a PCA SKIN® chemical peel. However, we recommend guests use PCA SKIN® daily care products 10 to 14 days prior to their peel to prep the skin and allow for better treatment results.
*Not all Massage Envy location offer facial and other services.
MASSAGE ENVY MEMBERS KNOW
A wellness program at a Massage Envy franchised locations gives you access to Chemical Peels and advanced skin treatments and products from top brands like Murad®, PCA SKIN and more at over 1100 franchised locations nationwide. Adding regular Chemical Peels to your skin care routine can help improve the look of aging skin and can help restore a dull complexion to a glowing one.