MEET & GREET
Once you arrive at Massage Envy, you'll be asked to fill out a brief intake form to record any relevant health history, current and past skin care treatments and services, as well as, your skin concerns and goals. We recommend arriving 15 minutes prior to your scheduled appointment so you can relax while filling out the form.
STARTING YOUR SESSION
Your esthetician will review your form, along with your reasons for visiting, your current skin condition, and any specific areas which you'd like to address during your skin care treatment. Session time includes up to a total of 15 minutes for consultation.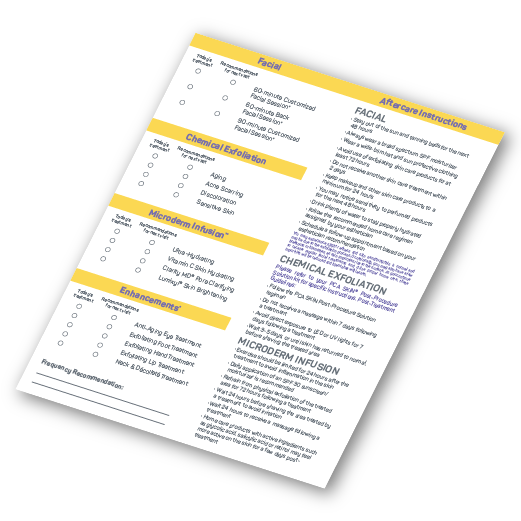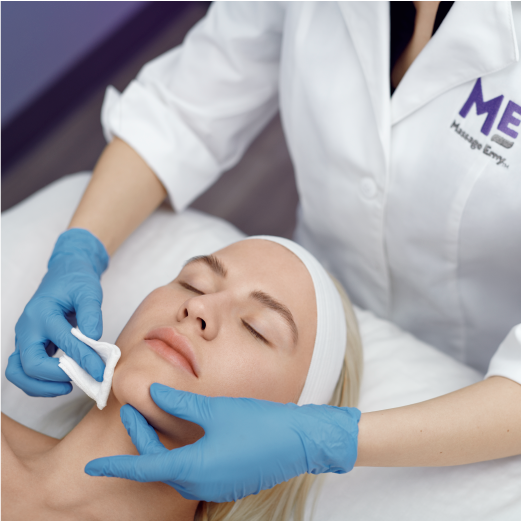 PREPARING FOR YOUR SKIN TREATMENT
You'll be guided to a peaceful, private room for your session. Your esthetician will leave the room to allow you to disrobe (if necessary) from the waist up in private. Get comfortable on the table and if you disrobed, pull the sheet over you. Your esthetician will knock on the door to ask if you are ready before entering.
DURING YOUR SKIN TREATMENT
Your esthetician will perform a skin analysis on your face to determine how to customize your selected skin treatment and what products are most appropriate. Once the esthetician has finished the analysis, they'll give you a brief overview of your skin condition and a description of the treatment options they recommend.
AFTER YOUR SKIN TREATMENT
Once your skin treatment is complete, your esthetician will wait outside the room while you dress. When you're ready, they will share recommended home care product information with you, and return you to the reception area.
KEEP YOUR SKIN LOOKING HEALTHY
Healthy Skin needs healthy skin care and Massage Envy fully expects that your skin care treatment will exceed your expectations. Your skin is an important part of how you interact with the world around you. Good skin care isn't just about looking good, it's about projecting a healthy glow that gives the confidence to take on the world.