MICRODERM INFUSION™
ADVANCED SKIN CARE TREATMENTS
---
Traditional microdermabrasion treatments only exfoliate and extract. This exclusive, Massage Envy treatment uses precision-timed hydration to deliver a 3-in-1 professional-grade, advanced skin care treatment performed in a non-clinical setting by licensed or certified estheticians at Massage Envy franchised locations.
FEEL MORE YOUTHFUL.
Helps reduce the appearance of the fine lines & wrinkles with breakthrough exfoliating technology.
FEEL MORE SMOOTHNESS.
Helps enhance the look and feel of your skin with a diamond-coated exfoliating wand.
FEEL MORE CONFIDENT.
Helps improve your skin's overall appearance through a combination of exfoliation, extraction and hydration.
MICRODERM INFUSION
BREAKTHROUGH EXFOLIATION INNOVATION
As the patented, diamond treatment head is drawn across your skin, it exfoliates your face, vacuums away residual skin cells and instantly applies a customizable, infusion serum. It's a simultaneous 3-in-1 treatment.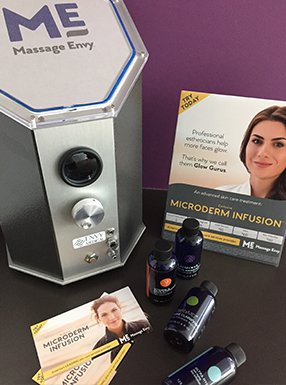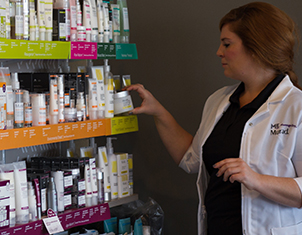 "A MICRODERM INFUSION IS SOMETHING YOU CAN DO RIGHT BEFORE A PARTY. YOU WILL HAVE BEAUTIFUL, SMOOTH, HEALTHY GLOWING SKIN. WE CAN USE THE WAND TIP TO HELP GIVE YOU A NICE, SMOOTH EYE LOOK AND PLUMP, VOLUPTUOUS LIPS..."
THINGS TO KEEP IN MIND
While Microderm Infusion is a fantastic skin treatment that can benefit all skin types, we want you to be a smart, skin care enthusiast. We recommend that you avoid the sun prior to your appointment and refrain from scheduling a facial within the first 7 days after your treatment.
For most people, there is a short recovery period after the treatment. However, because results may vary, avoid scheduling an appointment within a few days of any big events.
WHAT YOU CAN EXPECT
Your clothes are not affected by the treatment. So, you can come in over your lunch break or whenever is convenient.
During your treatment, you may experience some degree of a scratchy, stinging sensation along with a vacuum suction sensation. Afterwards, your skin may experience temporary tightness, redness or slight swelling. Your skin should calm from within 20 minutes to a few hours after your treatment, depending on your sensitivity.
MASSAGE ENVY MEMBERS KNOW
A wellness program at a Massage Envy franchised location gives you access to Microderm Infusion, advanced skin treatments and products from top brands like Murad®, PCA SKIN and more at over 1100 franchised locations nationwide. Adding Microderm Infusion to your regular skin care routine can help make a dramatic difference in the look and feel of your skin.